The Status field on the Details tab of the Manage Clients screen, is a key piece of data. By changing an activity's status, you can keep track of what activities require further action.
When you first create an activity record, its status is 'Open', which ensures the activity will be listed in your "Current activities" lists, and that the client in question will be listed in your "Current clients" lists.

You can also optionally add a more detailed description of the status using the "click here to describe the current status of the activity" hyperlink.

To change the status of an activity, click on the Status hyperlink, then select Close this Record -

When you close an activity, you are effectively telling Ivo that you have done all that can be done for this activity, and Ivo will check that all necessary statistical reporting items have been completed for the activity. If not, you will need to complete all fields on the form in order to completely close the record.
All the mandatory details that must be filled in before the activity record can be closed are displayed in the yellow box. You will be able to complete all the missing fields in the Close Record window, complete all the statistics that are coloured red, as well as adding a file note to the record which can be done by clicking the 'create at least 1 file note' link in the yellow box.
(Note, the statistics that must be completed will not be displayed until the 'Date Activity Ceased' value is provided).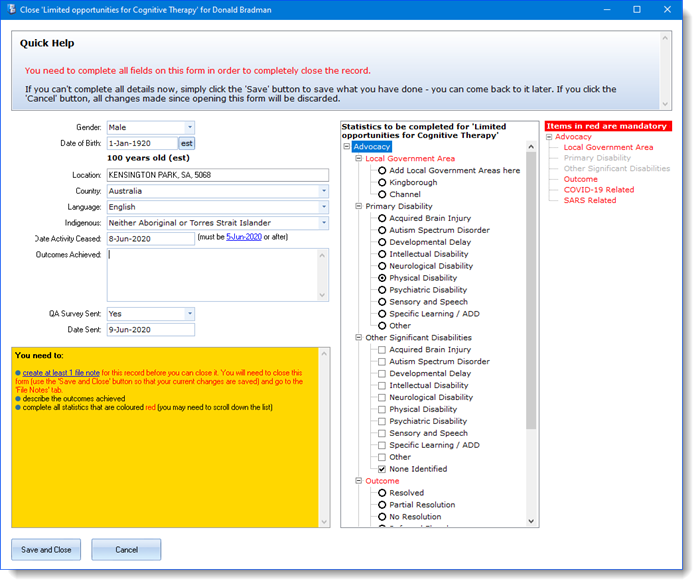 If you are unable to complete all the mandatory reporting items for an activity you can click the 'Save and Close' button to save any changes you have made, however the activity record will remain 'open' until you return to this screen and complete all mandatory information. Once a record has been closed, it is moved from the list of open records to the list of closed records.