To view file notes relating to a particular activity, click on the activity record and then the File Notes tab -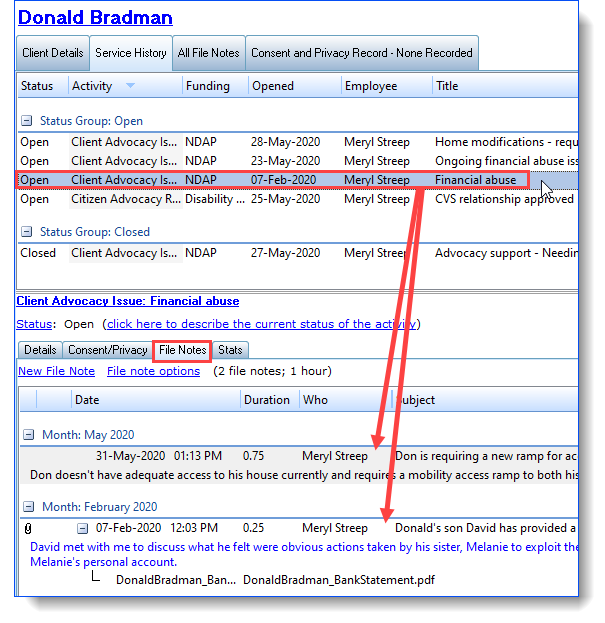 In this example, the selected issue regarding "Financial abuse", has two file notes attached. You may notice that the first file note is about requiring a residential access ramp. It seems we've mistakenly attached this file note to the wrong activity.
There are two ways of correcting this mistake (and of making other such changes to file notes).
The first is to use the File note options hyperlink: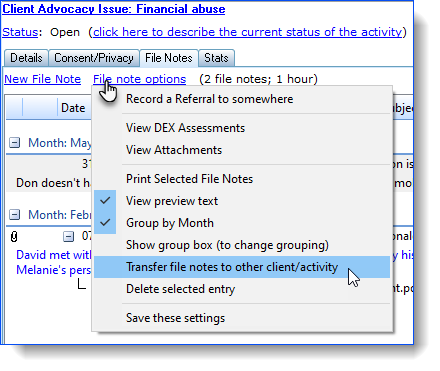 In the Transfer File Notes window, select the file note(s) you want to transfer. The client that the file note currently belongs to will be automatically selected, but this can be changed if necessary. Click on the activity to which you want it transferred (note that, should it be necessary, there is also the option - via the hyperlink - to transfer the file note to a new activity.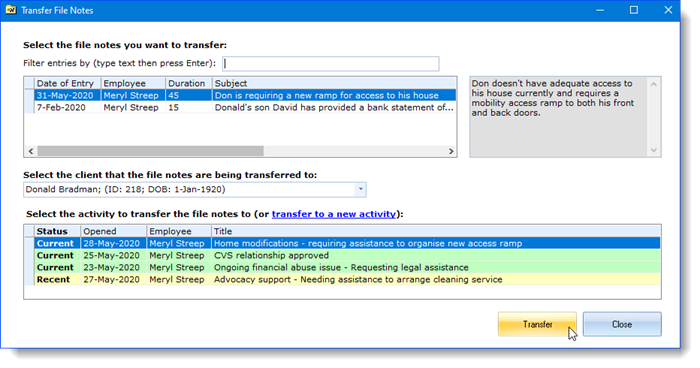 The second method is to double-click the file note record you want to transfer, and then in the edit file note window, use the 'Transfer to other activity' button:

You can also view all file notes across all activities in order to gain an overall picture of client interaction. This is achieved in the All File Notes tab;

There are also various options to provide different levels of detail in the file note lists. The File Note Options hyperlink handles a variety of extra tasks. The View preview text option toggles the file note view to include or hide the first few lines of the file note;
When looking through file notes there is a useful "Text Filter" tool to make it easier to find what you're looking for. Type the text or word you are searching for in the Text Filter field and Ivo will start searching through the file notes based on the letters typed in the field.